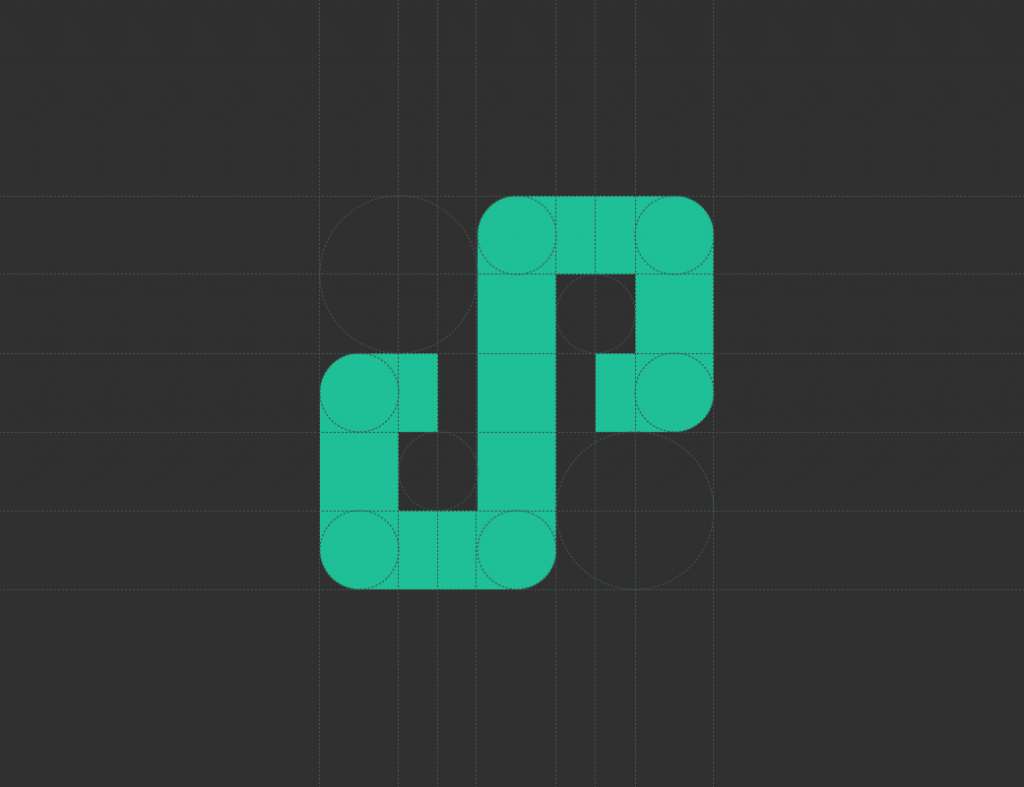 In August of 2012, we decided to take down the We Are Pixel8 website because the company was going through a restructuring period. We had lost one of our principals and were transitioning the company from client work to a theme only shop. We put together the ubiquitous landing page and set about returning within a couple of months. Holy time-lapse, Batman! Has it been a year already?
Start, Stop, Rinse, Repeat
It was never our intention to be out of the "scene" for nearly a year. Honestly, whoever would decide to essentially shut their business down for that long must be nuts, right? But there were a couple of extenuating circumstances — read it was all my fault — that impacted the outcome. We not only needed new business and marketing strategies, but we also needed to design and new identity as well.
If, at first, you don't succeed …
So, back in September 2012, I set about the process of redesigning a logo for us. Before we continue, let me state up front that I am not a logo designer and really had no clue where to start. Friend of the company, Steven Darby, had just completed an identity system for Him And Her, our new studio for client work, and I thought he might be available to come up with something for We Are Pixel8. In the end, we couldn't get our schedules to mesh, so I rolled up my sleeves and took a swing at it.
Truth be told, I was never happy with this direction. All I did was append a pixel mark, made up of eight "pixels" that loosely formed the letter "P" in the negative space, to the end of the existing logo. But, I felt internally pressured to get this done so we could quickly relaunch the site. Jeanette had signed off and was probably tired of hearing me talk about the damn thing. So, with "new" logo in hand, I moved on to designing comps.
Relatively pleased with the direction the site (some of the elements made it into this final design) was taking, I started developing the WordPress theme in later October 2012 with a tentative deployment of December 2013. After completing about 75% of the development, I had to stop to focus on new client work that was coming in. So we decided to push the deployment date to January 2013. That, obviously, never happened.
Get'er done or shut it down
Fast forward to May 2013. We knew that we had to make a critical decision. We were either going to have to finish the We Are Pixel8 redesign or shut the whole thing down for good. Jeanette was launching Bark and we had yet to do anything for Him And Her. In short, we were no better off than we were in August 2012.
After a long meeting to discuss all of our options, we came to the conclusion that we still felt passionately about We Are Pixel8. So, I opened up the comps from last year and just felt deflated. The designs were sound enough, but the logo was bugging me to no end and, if you don't know me, this meant that I could not move further without dealing with the issue. This time, I would not rush the process.
Everything about We Are Pixel8 was going to be stripped down to the bare essentials. We make quality WordPress themes that are forged with our belief in sound design and development principles. The logo and typography needed to reflect that. And, for the next couple of days, I would doodle ideas on whatever I could get my hands on whenever the inspiration hit.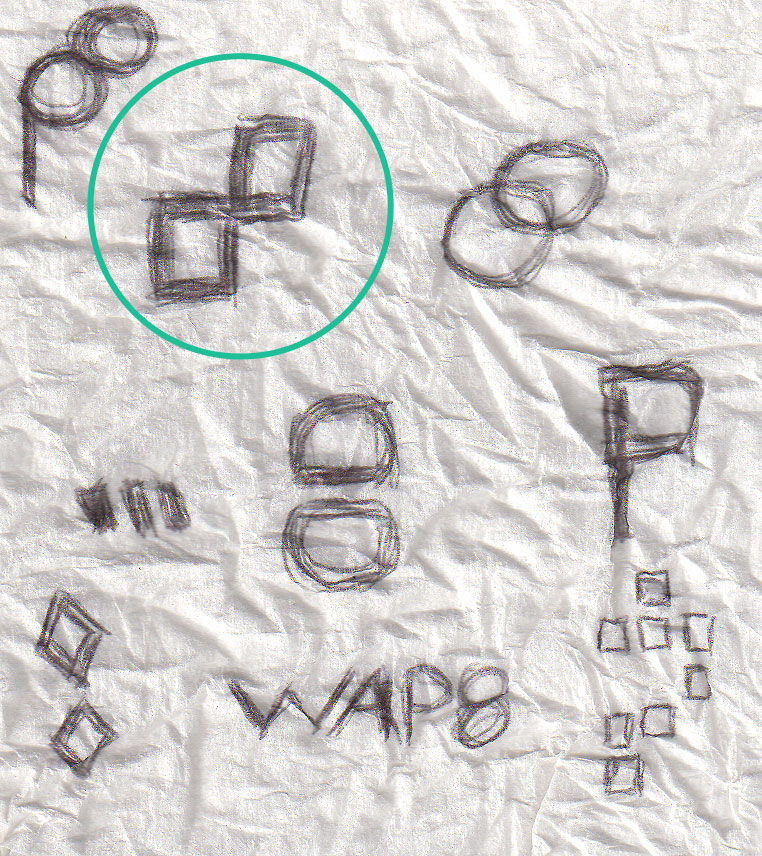 In one of these doodle sessions, I drew a shape that I found interesting — two connected squares, that formed the number "8" and had a "pixel" in the negative space. I liked the idea of combining simple shapes to form a picture which, in my opinion, is the foundation of any type of visual communication. I felt like I was on to something so I fired up Illustrator to flesh it out.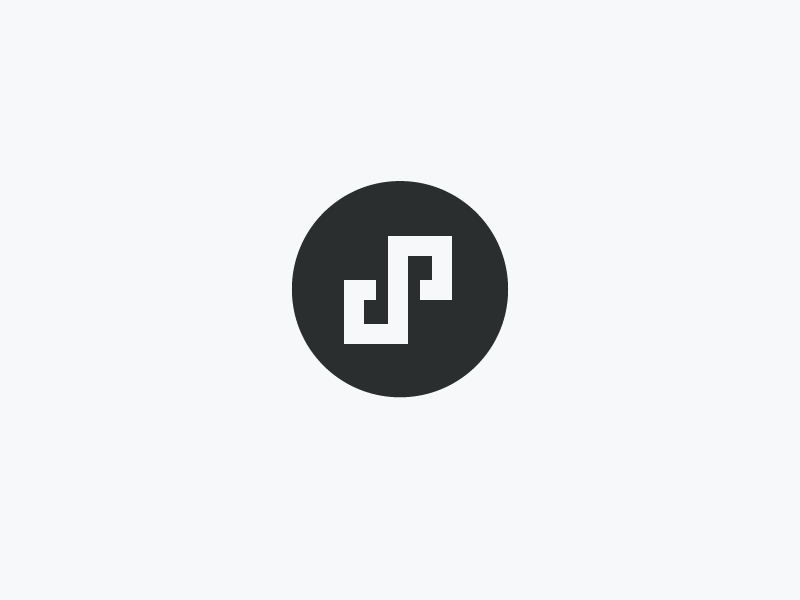 I eventually removed all type from the logo and proposed only using a mark from now on. You can see the original sketch concept has been expanded to not only form the number "8" but to also loosely form the letter "P" throughout creating an ambigram effect. I originally enclosed the logo but realized that without one, the mark forms a perfect square, i.e. a pixel. After a few more late rounds, I ended up softening the edges to more pronounce both the "P" and the "8" and our logo was finally complete. Houston, we have lift off!
From there, Jeanette and I chose a simplified color palette of green, white and gray and I set off to redesign the redesign. Just about 90% of the website was iterated on in the browser. The whole reason for doing so was because the site was now going to be responsive, which was not the original plan. If you have tried to tackle responsive before, then you know what a waste of time it is to design anything in Photoshop.
For typography, we decided to continue to use Gibson, by Canada Type. This under appreciated humanist sans serif is a workhorse that delivers exceptional readability across its varied weights and paired exceptionally well with the new mark. The new site's structure is more meaningful and fits where we are headed. If you are interested in our themes, you now have a destination.
About the Website
As I already mentioned, we have decided that the We Are Pixel8 should be responsive. I was reticent, at first, because of how dense of a project this would be, but am happy with the way it has turned out so far.
We have taken a mobile first approach, which meant that we had to do a bit more heavy lifting for IE 8 since that browser does not support media queries. But mobile first is the only way I fly when it comes to responsive development. So, if you've just arrived to this century from 1996, via a time machine, and are browsing this website on a Windows machine, you may want to consider updating to IE 10, if you can.
WordPress plugins that help us serve up this website
Of course, the site is managed by WordPress with several plugins we could not live without:
We also developed two plugins for managing our themes and frequently asked questions.
Javascript plugins that help us serve up this website
We wanted to keep the loading of javascript assets to a minimum and only when needed. The following are a list of the plugins we are currently using that are having minimal impact on the website's performance. Of course, we are going to be monitoring this over the next few weeks and would love to know if you are encountering any issues.
About the website's typography
I have already mentioned that we have chosen to continue using Gibson for our brand identity typeface. The fonts are being served using @font-face with a license from Fontspring. If you are as geeky about type as I am, you may get a kick out of checking out our Typography Style Guide page which governs all of the typographic rules for the site.
Sprinkled throughout the site are icons that are from a set we designed and are also served up using the @font-face rule.
How we are managing website performance
The site is being aggressively cached using the W3 Total Cache plugin. We are also serving up our scripts, images and font files using a content delivery network managed by Rackspace Cloud Files.
There are a few more enhancements we will be making as we troubleshoot of the next couple of weeks. Of course, if you find any bugs, please let us know in the comments or on Twitter.
Shout Outs, Kudos and Thanks
Though We Are Pixel8 is just Jeanette and I, I would be remiss to not mention a few people who have helped with this relaunch in one way or another even if they don't realize it themselves. If you are not following these folks, what are you waiting for?
Steven Darby

Mike McAlister

Jake Caputo

Brady Vercher & Dan Cameron

Luke McDonald
Lastly, we want to thank everyone who waited for our return. It has been a long and tough journey to get here but hopefully the love, dedication and hard work shows.